Building a business needs a lot of hard work. You need to dedicate yourself completely to the business to make it successful. Moreover, there's a big competition between businesses today. Those businesses that have their online platforms are performing well while those still lacking their online presence are standing at the bottom.
So, these businesses need to think about creating their online platform in order to stand with their competitors. Some of them have already created a website but are confused between the web hosting solutions.
Many prefer going for Linux web hosting because is it a free and open-source platform. For Windows hosting, the users need to pay for the Windows license. But still, Windows is the best hosting option for those who looking to host their ASP.Net website.
Are you looking for a web hosting provider for your ASP.NET website? If yes then this is the right place. Here's a list of web hosting providers that offer Windows hosting solutions to host your .NET website.
But prior to that let's dive deep into Windows hosting:
Reasons to Consider Windows Hosting
When you search for a web hosting provider in India, you will need to check for several web hosting providers that use a Linux as well as those that offer Windows hosting platform. Moreover, there are also a few web hosts that offer both platforms to their customers.
Since maximum people use Windows as their operating system, they might think it as a perfect solution for their website. Also, many think this is the reason to select a Windows hosting platform for their hosting needs. But anyone can use a Linux platform without any difficulty and that's true. Windows hosting is a less chosen option on an individual level but other times it is essential.
Benefits of Windows Server
Many web hosting companies in India enable you to get a simple website live online. However, if your requirements are more extensive then Windows hosting can prove to be a simple and best option.
Even you can use a Windows server easily.
Also, if you have an in-depth knowledge of Windows OS, you don't need to learn other operating systems. You can manage your website with Windows hosting servers. If you are planning to work with Active Server pages, C#, ColdFusion, or Visual Basics, Windows Hosting is best for you.
Windows is simple as well easy to manage and update in comparison to the Linux server especially if you are new to web hosting.
So, after checking the benefits of Windows hosting, let's now explore the Windows hosting providers of India.
MilesWeb
MilesWeb was started in 2012 in India and ranks as one of the best hosting providers globally. The company takes pride in being a website hosting provider that can easily manage high-traffic websites, from eCommerce stores to developing business websites.
Their web hosting plans are powered by AWS cloud (Amazon Web Services), which is being used by several biggest companies in the world. MilesWeb Windows hosting services are powered by the Plesk control panel. They offer cheap shared hosting, VPS, reseller hosting, dedicated, WordPress, cloud, etc. & these are some of their web hosting options.
Their Windows hosting plans come with a free domain, unlimited SSD space, unlimited bandwidth, free SSL certificate, and more.
Cheap Windows Hosting Plans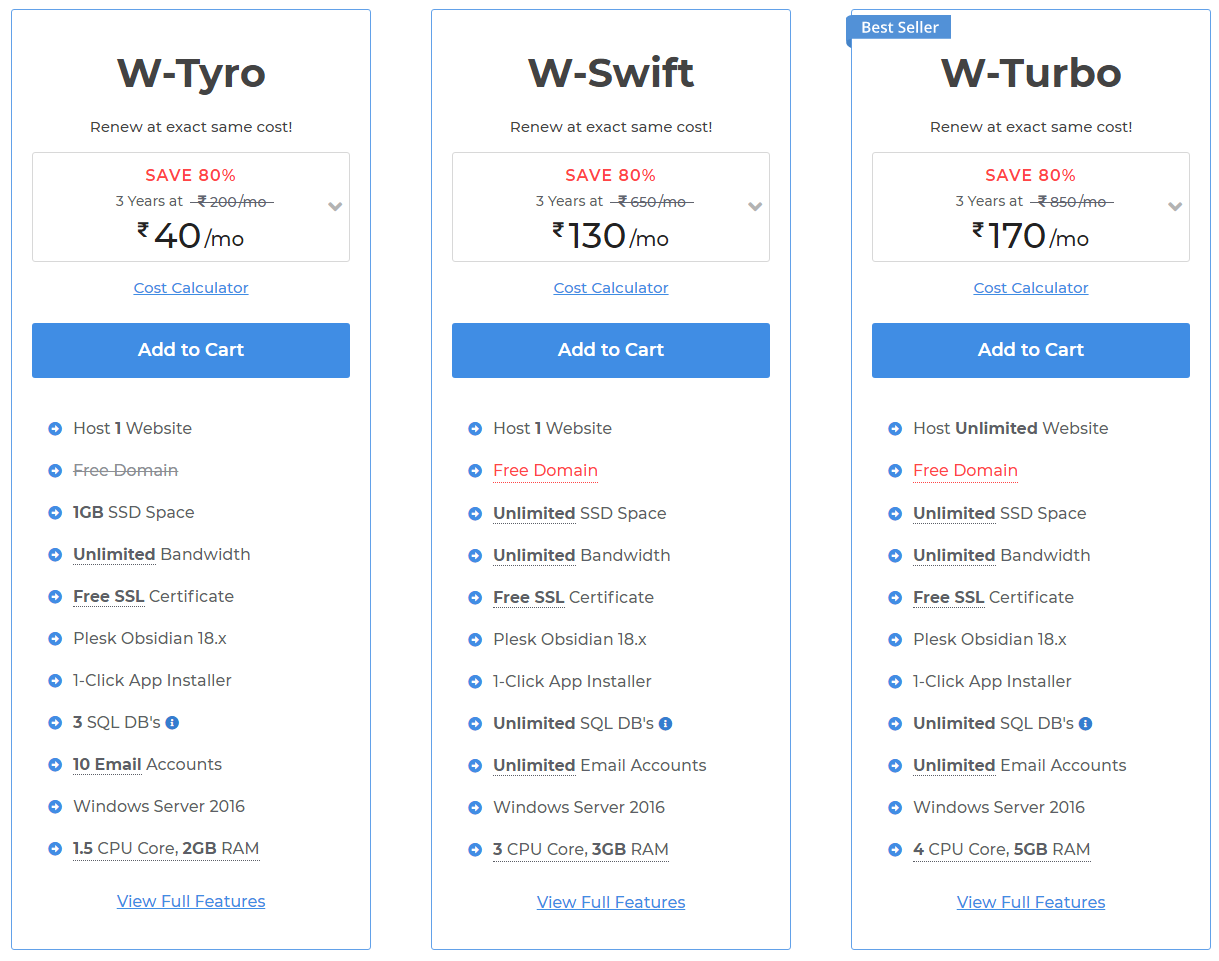 Features
Register Your Free Domain
Free Website Migration
SSD Drive
Plesk Control Panel
Secure Email
1-Click Installer
Programming and Databases
Instant Account Setup
SSL certificates
Apart from these features, MilesWeb also offers 24/7 customer support, 99.95% uptime, and a 30-day money-back guarantee.
HostGator
HostGator was established way back in 2002 and is indeed one of the most popular web hosting companies today. They are an EIG acquired company. Signing up for their web hosting allows you to create professional-looking, functional, and beautiful sites. Moreover, it offers a user-friendly resource management dashboard as well.
Windows Hosting Plans
Features
NET Hosting
One-click Script Installs
Plesk Onyx 17.5
Advanced Database and Programming
Professional Email Accounts
One-click Script Installs
Free SSL Certificate
HostGator also offers 24/7 customer support, 99.9% uptime, and 45 days money-back guarantee.
BigRock
One of the popular web-hosting providers, BigRock is an EIG acquired company. The company was launched in India in 2010. They currently power over 6 million domains. They too offer a wide range of web hosting plans to meet the needs of different websites.
Their Windows hosting plans come with rock-solid hosting. They offer unmetered space, unmetered bandwidth, free SSL certificate, and unlimited emails with their Windows hosting.
Windows Hosting Plans
Features
Dell Rack servers
Programming Languages – ASP, ASP.NET, PHP 5.3 to PHP 7.3, and MS-SQL and MySQL databases.
Application Marketplace
Domain Services
Email Services
Support
BigRock's customer support team is available 24/7. They offer 99.9% uptime and a 30-day money-back guarantee.
The Verdict
So, all the three Windows web hosting providers offer the best features to host your ASP and .NET or Microsoft Exchange-based website. Now, it depends on you which provider to choose. But overall, MilesWeb seems to offer the best features such as the free domain, free migration, 1-click installer, and instant account setup which the other providers lack.