"Did you watch the video that's been trending on social media these days?"
"Have you heard this new Justin Bieber song?"
These are some common conversation starters these days.
Humans in the digital era are keen on staying up to date with the latest happenings around, and nobody likes the feeling of being left behind. Popularly known as "FOMO- the Fear of Missing Out", it is human psychology to quickly respond to opportunities that excite them. Savvy marketers tap into this tactic of creating psychological triggers in their target audience to get them to respond to their messages.
In email marketing too, this tactic is useful in creating a sense of urgency and getting subscribers to respond to emails instantly. Using countdown timers in your email template is one of the most effective ways to get your subscribers to respond quickly.
So, what is an email countdown timer?
A countdown timer is an interactive element that is used to count down to a specific time in the future. It is a GIF that can be embedded into an email template to show the time remaining for an event to begin or a specific offer to expire.
Brands and marketers use countdown timers to:
Create urgency
Entice subscribers to act on the spot
Improve engagement and click-through rates
Boost sales
Add interactivity to the email
Here's how a countdown timer looks like:
Most of the popular email clients such as Android, Apple Mail, Gmail, AOL, iPhone, Outlook.com, Outlook 2002/2003, Outlook 2011, Thunderbird, and Yahoo! will perfectly render the countdown GIF.
When to use a countdown timer in email?
Countdown timers in emails show subscribers how much time is left for them to take action. It is a great tool to help subscribers plan for a specific event, mark their calendars for an exclusive sale, or buy the product before its price shoots up again.
The main idea is to create a sense of urgency and get the subscribers to act before the time runs out. Here are a few ways to use countdown timers in emails.
Launching a Product
For the launch of a new product or service to be successful, it must garner the attention of the target audience. It is therefore important to send an eye-catchy email to announce the launch. The Whiskey Exchange uses a countdown timer for the exclusive release of their April Fool's Whiskey followed by an attractive image and engaging copy, which works well in captivating the subscribers' attention.
The End of a Special Offer
"Hurry! Offer ends soon!" is a trigger for most of us to purchase products on sale. When the clock is ticking, we tend to decide faster and rush to finish the purchase. Check out this email from the brand Jane. The email has a ticking clock with the headline "8 hours only", which emphasizes the urgency to purchase the products listed on the flash sale before midnight.
A Seasonal Event
Seasonal events such as Christmas, Black Friday, Cyber Monday, Easter, Halloween, etc. are a great opportunity for brands to run sales and grab some eyeballs. A countdown timer works as a great tool to create a buzz around the seasonal event and urge the subscriber to act. The brand Super Speciosa uses a countdown timer for their April Fools offer. The email copy and the special offer focus on creating an urgency to place the order, which is a great tactic to boost conversions.
An Upcoming Event
Countdown timers work as a great tool to create anticipation of a future event. It can be used to create a buzz and give a sneak peek into an upcoming event. Chipotle uses it in their email with the subject line "Something big is coming soon…", followed by a catchy copy and CTA, which will drive a subscriber to click-through and look forward to the event.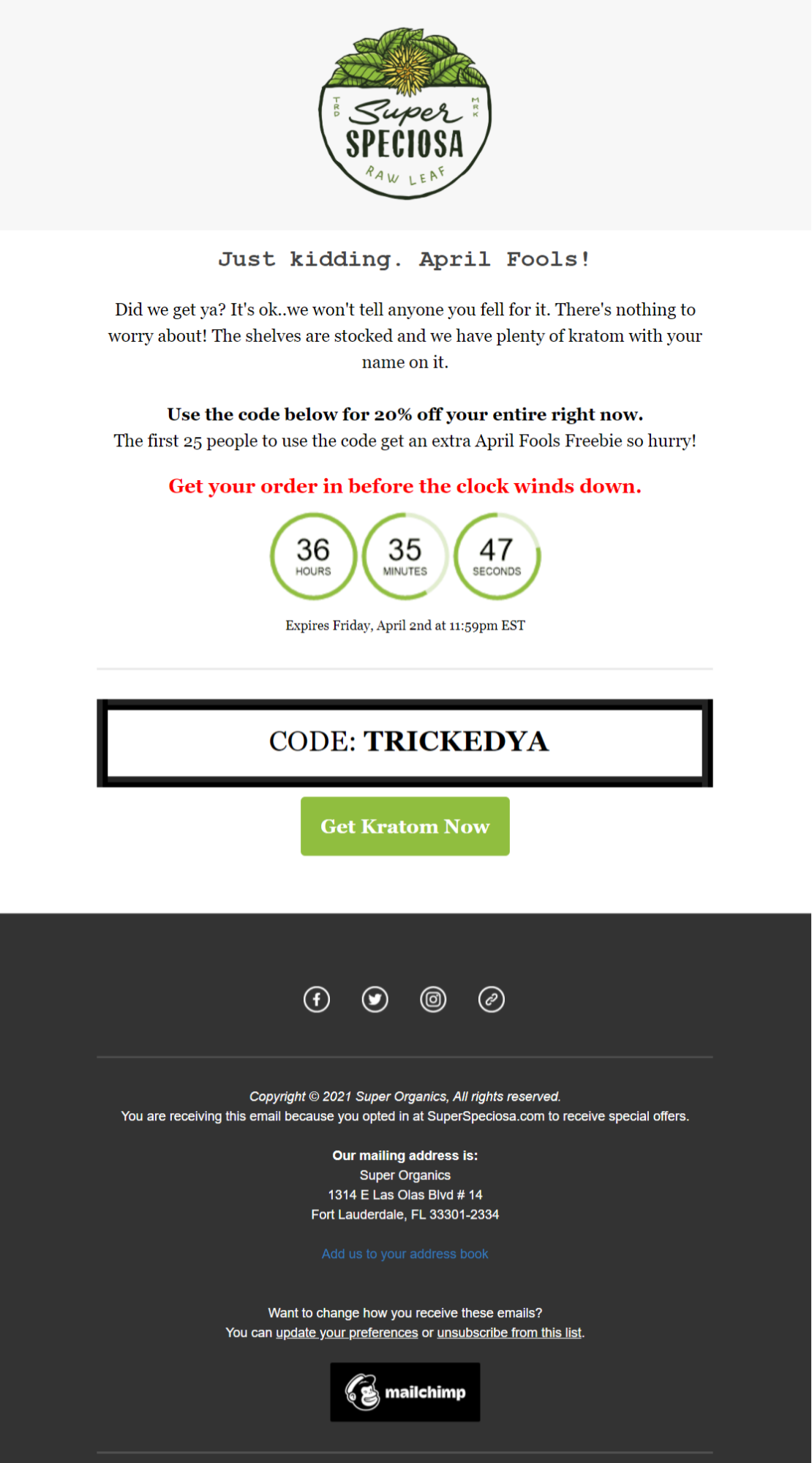 Special Sale or Offer
Giving your subscribers early access to a sale or extra discounts is a great way to boost engagement and sales. In this email from TikTech, the subscribers are given a special discount for their flash sale. The brand has added a countdown timer and an enticing CTA to add to the zeal of the sale.
Apart from the aforementioned examples, countdown timers can also be used in personalized birthday emails, webinar promotion emails, and cart abandonment emails. While creating email templates with countdown timers, you must also focus on the other important elements that help in driving email conversions such as:
a clear and crisp subject line that evokes urgency,
an enticing copy that focuses on the deadlines and scarcity such as "last few hours", "limited stocks", etc.,
prominent CTAs that persuade the users to take the next step,
early bird access or special perks,
time-sensitive offers and discount coupons to excite the users to make the purchase, etc.
In a nutshell…
It is human behavior to put things off until it's really urgent or until the FOMO hits real high. Whether you want your customers to sign up for your upcoming webinar or buy from your limited-time stock clearance sale, an email with a ticking clock and a well-written copy will surely trigger them and get them to click through straight away.
Image Source: Milled