Video editing is a skill to alter or edit video shots with creative effects. To become an expert in the video editing field, you have to use Best Video Editing Software. Here, We don't teach you how to edit video clips, but we can help you out in finding the Best Video Editing Programs. It will minimize your editing time and help you to produce a better video effect.
Whether you are a beginner, a YouTuber, or a professional video editor. Once in this field you have or will face difficulty in choosing the best video editing software. So, without wasting time, let dive into the article and find the best software to edit videos for beginners or YouTubers.
Select the Right Video Editing Software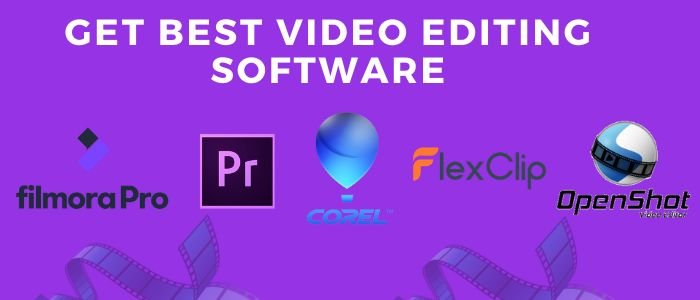 Selecting the right video editing software is the first step in improving the video editing process. There are much software available in the market that provides the tools you need to perform standard video edits. But video editors prefer to use software based on features, tools, usability, and digital interface.
Professionals need more powerful software than a beginner to edit videos. Top featured Softwares are Autodesk Smoke, Adobe Premiere Pro CC, Corel VideoStudio, and FilmoraPro, etc. Some of these offer a paid version with powerful tools. If you are an amateur, You may try out free Video Editing Software like OpenShot, Filmora, and Shotcut, etc. These free video editing applications are also highly capable alternatives of paid versions.
The main reason for choosing the best video editing program is to simplify the editing style more effectively.
Role of a Video Editor
Assembling all raw footage in a sequence
Synchronizing and storing clips on a computer
Exact cutting of unusable shots
The smooth running of the video with proper transition effects
Experiment with new ideas and techniques on videos
Suggesting or selecting the best music
Correcting faulty footage, grading, and coloring
Creative mindset
The video editor has to perform the above tasks. So, to perform these tasks or roles, a video editor needs better video editing software that makes editing work easier.
Things To Keep In Mind While Finding Video Editing Software
Purpose For Using Editing Software
You have to decide first for what purpose you are going to use it. Different programs are designed for different users. If you just need to edit short videos for personal use then some free versions are also available in the market. Otherwise, need to edit videos for youtube or film making then you can go for a paid version.
Must Read – Computer Care – 8 Ways to Take Care of Your System
Editing Tools That You Need
All video editing programs come with different features. Before choosing a program, Do proper research by listing out the important features that you need. This will make it easier in selecting the software within your special editing tools requirement. Haktuts provide the best editing tools.
Computer Must Have Meet Minimum Requirement of Software
Now it is simple to edit a video because many new software's are launched which are easy to use for beginners. Even your smartphone is capable to edit videos.
But if we talk about movie making or want videos in high quality. Then you must have to buy professionals software. Especially for edit videos in 4K, 6k, or 8k quality. Your computer needs to handle the editing process without any lack. So, For the best editing experience, you should have to buy software that can easily run with your system requirements or upgrade the computer.
Buy Video Editing Software Within Your Budget
Like – Adobe Premiere Pro video editing software is best for some users, but it's too costly. So, some beginner users can prefer to use Wondershare software like – Filmora9. So, decide your budget and make a purchase around it. But if you need a high-quality feature program then you have to pay more for it.
Best Video Editing Software for Beginners or YouTubers
The video platform is on-trend now. More than 2 billion users are active on youtube. Every day there are billions of views on youtube videos. Companies also building their brands by adding video content on youtube or other video-sharing platforms. If you are thinking to come on youtube as an individual then your responsibility becomes more. Like:- you have to create interactive content, edit the video, and upload it on time.
A good-edited video brings more engagement and for a good-edited video, you have to need to use the best one video editing software. Here, is the list that most YouTubers use to edit their videos.
Shortcut
Final Cut Pro X
Adobe Premiere Pro CC
Filmora 9
Corel VideoStudio Ultimate
These applications offer various video editing tools that are simple to use by beginners.
Summary
We have shared some important points to consider while selecting the right video editing software. So, keep remembering these points while deciding to buy. There are many types of Video Editing applications for beginners as well as professionals. Think carefully about for what purpose you want it then buy.
If you'd like to search out more, Then simply check out our best video editing software which comes in your selected budget by following deals and offers.