Save Your Small Business: Struggling to establish your start-up business after many efforts? The right use of technology can save you from failing. Read to know more.
Let's face it! Running a small business is not an easy task as you have to perform multiple tasks and that on being financially constrained. This makes it very challenging given the expenses that business ventures have to go through. Almost one-third of entrepreneurs fail in their early years. This could be due to various reasons:
Inadequate funding
Wrong decisions
Degradation in quality
Improper marketing decisions
Lack of leadership skills
If you are a start-up and facing consistently huge losses, then it's time to take some serious actions. Or else, you might also have to shut your business. Now, this is something that no owner would like to do that. With the help of business planning and proper use of technology can save your business from the dead end.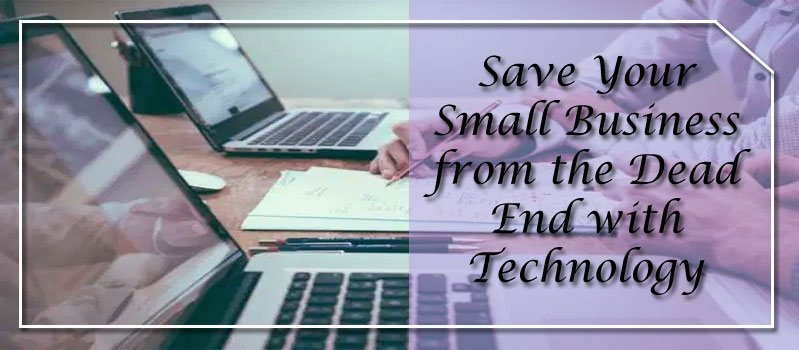 The role of technology in the business
Today, it is almost impossible to think of a business without the use of technology. Be it a small firm or a large scale organization, every business need tools, and gadgets to carry out their tasks. Thus, if you are struggling in your start-up and not able to meet your goals, then technology can help you in that section too.
Here, in this blog, we will be how the effective use of technology can help your business and what modification you can do. So, let us get started.
TECHNOLOGY ADVANCEMENT THAT CAN HELP YOUR BUSINESS THRIVE
Up-gradation of Equipment
The first thing that you need to do is update all your equipment in the workplace. It will make it easy for your employees to carry out their tasks and improve their productivity. The inadequate facility of equipment is a great setback for any business, small or big. There is a certain set of equipment that every business requires such as:
Printers
Networking
Internet connectivity
Telephone system
Well, purchasing all of them at once can be difficult for any small firm, especially if it's a home-based business.
If you are operating your business directly from home and need financial assistance at your door, then you can apply for doorstep loans in Hull. This urgent funding will help you to get the necessary equipment required for your office work.
Cloud computing
Cloud computing is a must use technology, especially for small businesses that have limited access to resources. It provides a centralized platform that is safe and secure to carry out all the business-related. Unlike physical storage, there is no possibility of data loss as it will be available on the cloud that can be used by the office staff at any time and place.
It gives the much-needed flexibility and provides better output in the business. Other than that, it also enhances security as all the valuable data will be stored in a safe platform. Also, in case of data loss from the local storage, you can quickly recover from the cloud whenever required. Now, we all know how data loss can take the company behind. You read "Save Your Small Business from the Dead End with Technology" at Phelix Info Solution Blog.
Use of Artificial Intelligence
Artificial Intelligence has totally revolutionized the industry. Today, computers can easily detect the approach of the user by analyzing the patterns. With the help of full-insight research, it can help in providing the most accurate and relevant solution to the customer. The implementation of AI can help your business in several ways:
Providing a better customer experience
Increase in overall sales
Real-time service
Improving Human resourcing process
Outsourcing
Being a small business, it is not possible to hire new employees or set a complete facility for the work. This might go beyond the budget of the business owners to afford. Therefore, it is better to do outsourcing to meet your temporary business needs. This will save you a lot of money and time as well. You will get the highly-experienced expertise at a cost-effective price.
Here are some of the major benefits that your business can get with outsourcing:
Reduction in capital cost
Improves efficiency
Access to skilled expertise
Faster service
The overall reduction in the labor cost
You might need to pay in advance if you are going to outsource. If you lack funds, then you can make the payment by using installment loans from direct lenders in the market.
Must Read:
How Custom App Development Can Improve Productivity and Efficiency?
CRM software
Building a good relationship with clients is very important in business, especially if you are a start-up. In the beginning phase, you will need a good number of clients to give a boost to your business, and that can only happen if you stay connected with them. Now, this is where Customer Relation Management can help you.
With the help of software, you will be able to stay in touch with all your clients and maintain transparency in your work. It will also help in optimizing your marketing strategy; improve your workflow efficiency and many others.
Wrapping up, these were some of the technological advancements that can help your business get back on track. Now, updating your business completely can take some, but with patience and time, you will get visible results.